Driveway Landscaping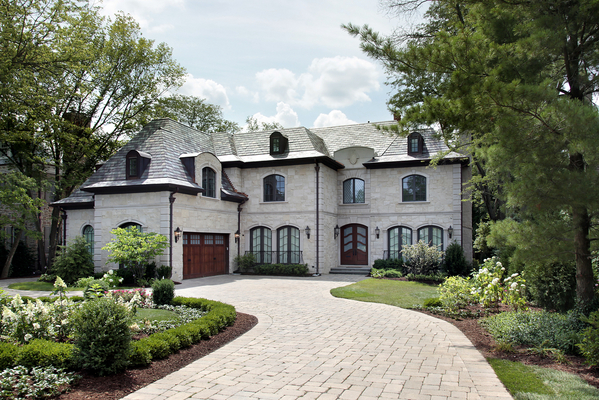 Homeowners tend toward viewing driveways as utilitarian structures because of their regular automobile and foot traffic. They need to be durable and well-built to withstand the stresses of traffic and the elements. From a landscaping perspective, the driveway is unique in that it presents a blank canvas with which to work. With some careful planning, homeowners can transform the driveway from a simple path into a solid introduction to the rest of the property's landscaping style.

First, it is advised that homeowners plan on what kind of aesthetic they would like their driveway to communicate. Should the focus be placed on softscapes, such as flowers and shrubs, which will line the driveway or be planted in small islands along its sides? Or do homeowners wish to include hardscapes (walls and fences) into their plans as well? Walls complement driveways in a number of ways. They can be constructed from a wide variety of decorative stones and bricks to accommodate almost any intended aesthetic. Homeowners can also build their walls at several different heights according to budgetary requirements. It is important to remember that one's choice of stones and woods at this stage of the process go hand in hand with one's choices for plants. Dimensional sketches will help homeowners visualize what the landscape will look like after construction is complete.

As for softscape plants to accompany the driveway, the choices are nearly limitless. The main factors here are of course climate, drainage, fertility, and rainfall. In other words, plants that are successful in other parts of the yard will most likely be fine along the driveway. Exposure may be a concern for delicate plants, however, especially if there are no windbreaks in the immediate vicinity. Plants exposed to wind and rain on all four sides need to be hardy enough to survive—the USDA plant hardiness zones are quite helpful in making these decisions. Homeowners in cooler climates may also choose to mulch their plants in the fall to limit the effects of winter root exposure due to high winds. Natural windbreaks such as hedge bushes and dense shrubs can also help prevent winter drying.

Plant placement independent of weather concerns is also an issue: where do homeowners wish attention to be directed in the landscape? The driveway itself is often a focal point, as it stands out due to its clear contrast with surrounding plants. Homeowners can take advantage of this by lining the driveway with shrubs and flowers to create a perception of orderliness. If something less regimented is desired, small planting islands dotted near the driveway on either side will work well.
Tags: plant, homeowner, landscape, driveway, shrub, wind